So the Weezer concert was pretty great. It was a smallish amphitheater so our seats were pretty great even if we weren't on the floor. They sound really great live.
Learned something new about DH.... he's a WOO'er. lol Every pause, WOOOOOOOO rofl
I'm glad he got to see his fav band perform though. If they come back to the SE again I'm sure we'll be seeing them.
We didn't get home until 3am so yeah, no BDing. We were both just too tired. I think we did as much as we could though. I'm gonna go ahead and say that I O'd yesterday.
Here's a photo of today's tests. Still both strong +'s.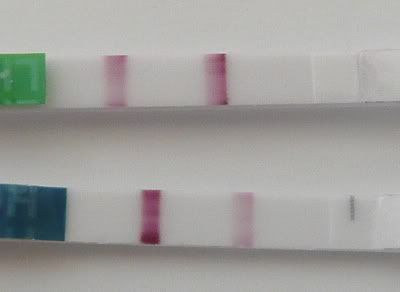 Happy Halloween everyone!!!!!!!!