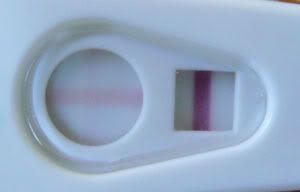 It's a light line, but you can see that it's very much there. *groan*
It came up within a minute and yeah, it's pretty visible.
Going to keep an eye on this with wondfo tests and just hope that whatever is left in there passes.
I just don't see how whatever this is is holding on and for so long. My beta was only an EIGHT. EIGHT!!! That should've been a 0 even before AF arrived fully and I'm on cd 6 right now!
UGH
Please, no comments on how this could be a miracle. I know it's not.
There are times to remain hopeful, but this is not one of those times.
I do appreciate any support though :)