Might as well just call this another AF. Easier than trying to explain what else it could be.
I'm still testing positive though which is so damn frustrating!!! I just want it to end already!
Here are the tests from this morning FMU. They're that color b/c well... I'm bleeding so yeah...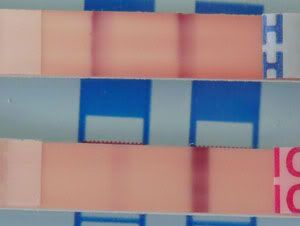 But yeah, still obvious positive tests.
Just go away already damnit!!!!!
No exercise today like I wanted to start. I'm SO not exercising when I'm heavy bleeding. I wear pads so that is just a huge gross mess if I start to exercise and get sweaty with the pad shifting. Just no.
It will have to wait.
I dunno.. I'm feeling really alone right now and like I'm being left behind. It's like everyone is getting their BFPs, and while I am happy for them, I'm still sitting here hoping to finally have a BFN. It's awful and lonely.
And then I start thinking about SiL and how happy they must be and just UGH.... my heart aches.