Yes, I'm obsessing.
Who wouldn't if they were in my shoes....
Took a wondfo hpt and opk.
OPK is kinda dark. Kinda close to being a + and another shadowy line appeared on the HPT. Gives me back a little bit of hope that maybe my urine earlier wasn't all that great, but who knows.
Lighting was bad when I took the photos so I had to increase contrast.
I think the photo of the hpt really captures what it means when these things have a "shadow" line.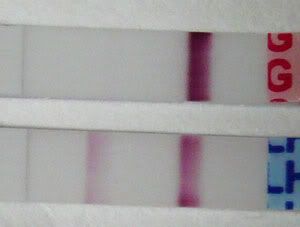 Took a 3rd sup just a little while ago.
Getting kind of crampy right now. Or feel like I'm going to.
Still spotting though and it has turned back to a peachy color.