Seriously, thank you everyone that has commented so far (and will in the future).
It does seem like I don't have any problems actually getting pregnant if I ovulate, it's just STAYING pregnant that's the problem.
I hope if this is really real that it's a sticky one.
I got a call back and no beta today, but I go in early tomorrow morning to get it done. I'm so nervous!
I went out and bought some more tests. 2 packs of Answers (2 tests each). I know, I said I wouldn't buy them ever again, but damn them for having a good price on their tests! lol
I also bought 1 3pack frer and 1 3pack CB digital.
I came home and immedietly took an answer test. I REALLY shouldn't have though b/c there was no hold. I had a nervous stomach before I left that wanted OUT OF ME. Yeah, gross....
So there was only maybe an hour hold if that long.
Something did show up but it's a lot lighter than the one from earlier and I'm really not sure if it is an indent on the answer test.
I'm not using any more of the good tests today so I'll have to torture myself with wondfos and wait until tomorrow.
Here's the answer test.
First photo in untweaked in kitchen light.
2nd is same photo but tweaked (contrast messed w/)
3rd photo is taken w/ natural lighting and tweaked (contrast)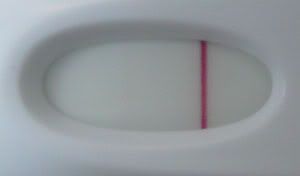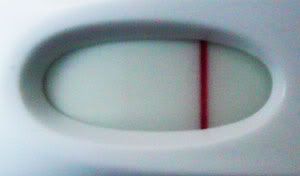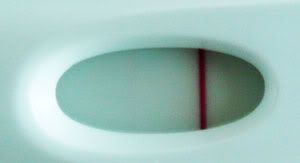 Mostly tweaked b/c I hated that it was lighter and I wanted to see if the tweaking brought out any pink, which it did I think.
So yeah.... I'm super nervous right now for obvious reasons. DH is going to get a surprise when he gets home... that's for sure!