Tests this morning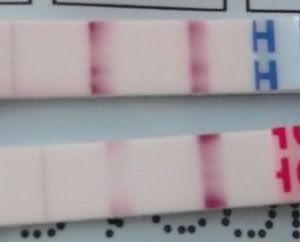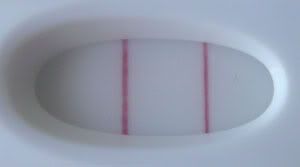 Still looking good.
I think the FRER looks darker than yesterday's test, but it's still hard to tell if test is darker than control. Oh well. It's still super dark which is a comfort to see.
Only 4 more days of testing w/ FRERs and I swear I'll stop posting pee sticks! lol
Yesterday was the first day I went without pooping. I ate broccoli the day before which is usually a guarante that I'll have diarrhea but nope, nothing. Even just going ONE day is making me feel achy down there.
I did go a little this morning, but whenever I strained any, it made my uterus ache so yeah, I stopped that. If it's going to come, then it's gonna have to without me pushing :P lol
And now that you know all about what's going on with my ass.. lets move on to something else.
Don't think I really have any new symptoms. I don't feel hungrier, not really peeing more, boobs are mildly sore but nothing major... *shrugs*
Just feel normal. BOOOOOOOO lol
Oh I did press on my uterus area when I took a shower this moving. Moved the fat out of the way and pressed gently and it is rock hard down there. Could be b/c of the whole not pooing thing, but it's usually soft so yeah, thought that was interesting.