I just took this test...
It's a Clear Blue Digital test. I had 2 left. First one I used yesterday said Not Pregnant....
This one though...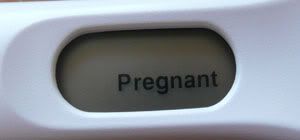 My heart skipped a beat when the word finally popped up lol.
It gives me more hope. Oh I'm still scared shitless, but that def gives me a lot more hope.
This is my first positive digital I've ever gotten when things could still be viable.
I had taken a digital the last 2 miscarriages when my level kept rising when they shouldn't have.
This though... this is just... It's been a few days now and this still hasn't sunkin in yet.