This must be a wonky batch or something. So frustrated that the wondfo hpts aren't showing much!!
The OPKS are working perfectly though.
Boooo Well, i guess you get what you pay for heh.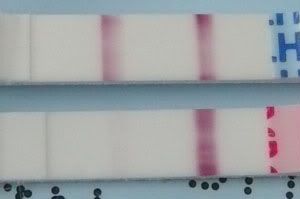 Think the OPK is almost a positive or a positive. Hard to tell when it's only half the line is as dark.
Oh well, just nice to see it dark.
Have I said how excited and anxious I am for tomorrow's beta?! GAAAAAAAAAAAAAH!
Oh, and my peestick plate is overflowing!!!
Every new cycle, I use a paper plate for all of my pee sticks so I can obsess over them.
I'll just let the photo speak for itself...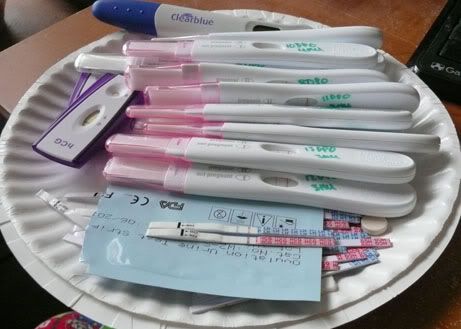 Heh.....
Hmm what else to mention...
On the forum that I frequent, someone posted a HPT test that had HCG values on the side. There were something like 5 different strips in a little column and numbers beside them to show about how much hcg it's detecting. Does anyone know where to get this test?
Getting a bump in the back of my mouth. It's right by my wisdom teeth and it's irritating the crap outta me. I can feel it even with my mouth closed and it's annoying chewing food on that side. It doesn't hurt thankfully, just an annoyance.
On the forums that I go to, I was asked if my tests were ever this dark before so I looked through all of the photos of my tests from previous BFP cycles and nope, not even close.
I said I think my 9dpo test is about as dark as any of them ever got, but looking now, I don't think any have gotten darker than my 8dpo test.
How sad is that :(
Even with my very first BFP, my first beta came in at 27. Not too bad, BUT this is what the test looked like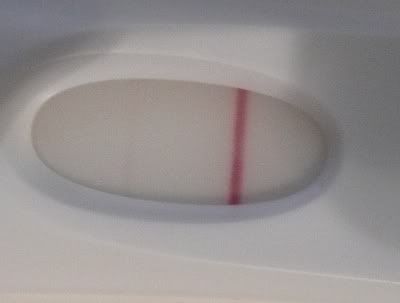 I'm not sure if it was taken with FMU or what though so that could've been why it was really faint but still. WOW.
This is def looking like the best chance so far. I think I've said this already, but I've never had progression like this before.
In previous cycles, the test always remained faint and never darkened. So... yeah....
Please let this be my take home baby!