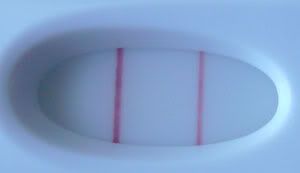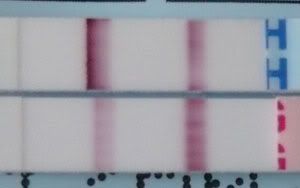 For once I am NOT freaking out about my tests. lol
Not sure if it's noticeable in the photo... on the FRER, even though the test line looks the same, the control line is lighter today. I know once the test line is darker, it seems to suck all of the dye away from the control so yeah... it made me feel better to see that.
I think my wondfo hpt is finally looking decent. Still not super dark or anything but it's still a better line than it was heh.
I am SUPER SUPER nervous about tomorrow still. Been putting different numbers in to a beta doubling calculator and UGH, there is such a huge range that is still within normal doubling time.
Hell, my beta could come back 500 tomorrow and although that is slowed down a considerable about, it is still doubling at 67 hours which isn't great, but still within 72hours.
Really REALLY hoping my level is at least over 1000.
I need to stop looking up beta numbers as well. So many women have such amazing numbers at 20dpo and I'm sitting here comparing myself to them when I know I shouldn't.
uuuuuUUuUUuUuuuuuugh torture! lol
What else...Feeling a lot going on downstairs. It's mostly in my O areas. It switches sides, like a few days ago, I was getting a lot of aching on my right side. Yesterday it was all in my left.
Not really feeling too much in the ute. Maybe something mild every once in a while, but it doesn't last very long.
I talked to DH yesterday. Told him I wanted to tell my mom probably after the u/s or sometime after. He said he preferred if we waited until 2nd tri when the risk of m/c is down. I told him once you see the heartbeat chances of m/c goes down a considerable amount, but he's being cautious. I completely understand.. I have my own fears and doubts and everything, but UGH I just want to tell someone! heh