I can't be sure if it's nerves or not, but I started feeling gaggy again today while watching Netflix.
I ate a banana and an apple, but that didn't really help, but it went away on it's own anyway.
And just a little bit ago, I started having this weird slight pulling sensation in the uterus area. I hope that's the little jelly bean getting comfy in there.
OH last night, DH wanted to go to Bestbuy to get a couple of things that were on sale. Since Old Navy is on the way home, I wanted to stop there as well b/c they're having a kick ass sale and I wanted those critter caps they have.
Well we go and I snag 3 of them. A cute devil/horn one, donkey, and an owl. All orginal price of 19 and change... 75% off so was just under $5 each. WOO!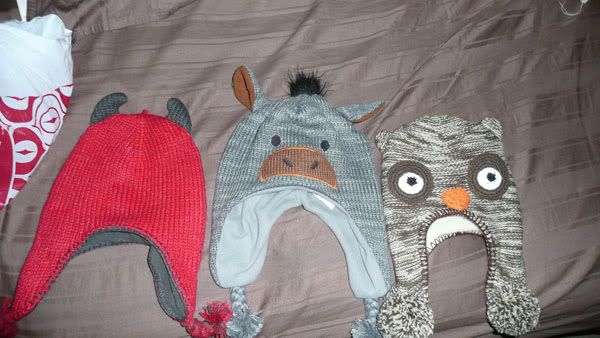 I wish they had them in adult sizes b/c I would totally dork out and wear them :P lol
I love the donkey one. The ears flap down and just looks SO cute!
But oh well, I'll just have to settle for putting them on our babies.. muahaha
I'm totally obsessed with baby caps w/ ears. SO frickin adorable and I swear, that's all our baby(s) will wear when it's cold heh
Going to start working on the nursery collage again soon. First I want to start getting ideas for the announcement cards. I know I want to do a simple popup, but not sure what else. Doing a popup seems easy enough thankfully. Yay for youtube tutorials :D