FINALLY!
Well, I still have to repaint the chalkboard, but for the most part, it's finished. WOO!
I can't remember if I explained it here so I'll just repeat myself if I have.
I had a dream for this idea. I liked it so I made it.
It's made out of styrofoam. Painted w/ acrylic paints. The animals, letters and a few tiny details are those soft foam craft sheets you can buy anywhere that come in different colors.
I planned out each rectangle and put them all together to circle around the chalkboard, which will be in the middle and removeable so it can be easily washed.
And yeah, that's about it. It was fun to do and I learned a lot doing it... mostly what NOT to do, such as do NOT use permanent marker b/c it bleeds through the paint and is a PITA to cover up.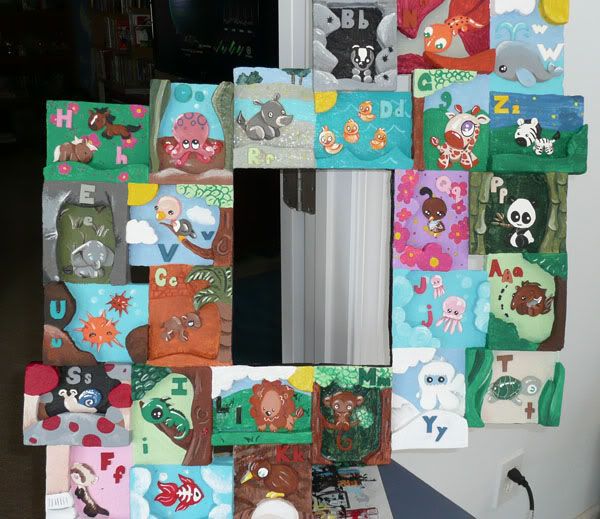 So yah, there it is. For my new little niece. She won't be able to use it for quite some time, but hopefully at least for a while she can enjoy the colors on it.
I plan on making one for myself to fit in w/ the fantasy theme of the nursery that I've been working on for forever heh.