Here are the tests today
Taken with FMU. The wondfo actually does have a very very slight something, but I think the test is faulty. The test dried and the line looks too close to the control. Not that dried tests are reliable or anything, but just saying lol. I THINK my OPK is darker than yesterday's, but it is just an opk so probably doesn't mean anything.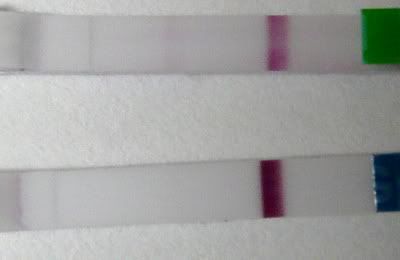 Tests I just took. Took my last FRER along with another wondfo.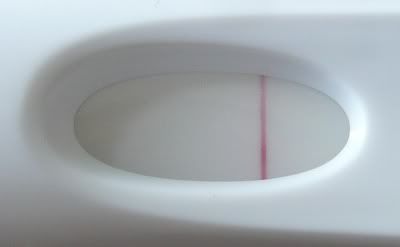 I don't see much of anything on these 2 tests. Def think they're BFNs. Well, there may be something on the wondfo, b/c the test is drying now w/ a 2nd line more visible, but still.. that's not reliable at all so yeah. Taking it with a grain of salt.
My eyes keep playing tricks on me with the FRER. I think I may be seeing the ghost of the 2nd line. Visible but not a positive kind of thing.
I'll be interested to see what this one shows once it's dry. Not going to take it out of the case.
Symptoms. Can't really say there's anything that couldn't be pointed to something else.
My breasts really aren't as sore as before which was never a good sign. After I went back to bed this morning, my right one was feeling sore from laying in one position, but that's hardly anything.
Last night, I started feeling like I was coming down with something. Kinda felt like when you're in the hot sun for too long. Your brain feels fried. I was also slightly queasy as well.
And since yesterday, I've had phlegm in my throat that does not want to dislodge.
I'm still getting ovary aches. Some on the left, some on the right.
Last night was mainly on the left this time. Didn't feel like it was quite at the ovary, but a little bit further away from it.
And finally... something has been upsetting my stomach lately. I don't think it's possible preggo related though. I think I may have a sensitivity to spicy foods, or just spicy kind of peppers in general. Sucks b/c I LOVE spicy stuff!