Before I go watch a movie to try to keep my mind off of this.
I just took another HPT.... and the line is still there. So unless I just got unlucky and picked 2 faulty tests, then it IS a real 2nd line on it.
But of course, as I've said, it could still be the trigger. I think by tomorrow, if it is the trigger, it will be gone, but if the line is still there tomorrow, then, well... yeah O_O
It's the same test, just taken w/ 2 different settings on the camera. Tried marking where the line is w/ pencil.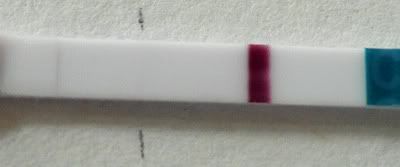 The line is still very difficult to see in photos, but oh well. FXFXFXFX!!
Another photo. The line is showing up really well on the test right now. Tried getting a better photo of it. Adjusting the light/contrast helps to make the 2nd line pop out more. SIGH, still not v/ dark though.

See.... I knew Tuesday would be when the crazy kicked in!! lol