I got the trigger this morning!!!
That was a total shocker!
I had a feeling that I was going to have a couple that were close, but thought I'd have to stim for a couple more days.
She only measured one being mature on my right O at 18mm. Little disappointed but I will take it. One is still a chance and that's all I want at this point.
It did however look like there was another on my right O that was just as big, but she didn't measure it as so. I'm sure she knows what she's doing, but to me, it just looked a lot bigger than what she measured.
My left O was still hiding so difficult to see what was going on there.
Looked like there were a few smaller size ones, around 12-14mm, but nothing matured.
She said with the one at 18mm already that I'd probably ovulate it before the others had a chance to catch up. I hope they do catch up some just to give us more of a chance. Either way though.... YAY!
Was just in such a good mood there, and even seeing that it's just the possible one.... I'm in a GREAT mood and feeling really positive about all of this.
I'm sure the TWW will totally suck that right out of me though lol.
Oh and my lining was 13mm so no problems at all there :)
This is the shortest injection cycle I've had so really hoping that the egg quality will be a lot better this time around since I keep reading that longer ones MAY produce poorer quality? Not sure how true that is but it still feels good knowing that I got to trigger a lot sooner than usual.
Plus I've been taking the Royal Jelly that is supposed to help with egg quality as well so FX!
Pleeeeeease let this be it!!
____________________________________
In other news... we had a nice 2 days of cheating. Dinner last night, we went ALL out. Got some chili cheese fries, a salad with ranch dressing, steak w/ mashed potatoes (DH had a loaded baked potato), and dessert was the chocolate cake thing at Longhorn. YUM.
It's time to get back on it now though.
Since it's now after the 30 days, I've decided to add back in Greek Yogurt.
It is DIFFICULT trying to find some that is full fat! Almost all of the other ones were made with non-fat milk.
This is the kind I finally found that used full fat milk. It was the only one left so woo! heh Big container and not too expensive either.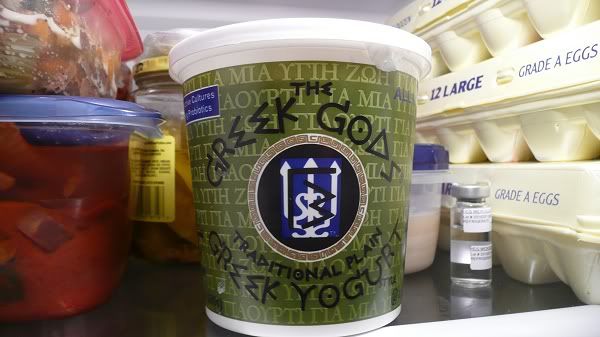 Lots of sugar in it though. I mean no added sugar, just natural, so can't have too much of it.
______________________
Just got a call from the RE, my E2 is only at 276, so guess it is just the 1 follicle. Kind of disappointed in that, but still... as I said, I will take one over nothing any day :)