My temps are REALLY low. Today's temp was only 97.51. My Post O temps are usually 98.
Trying to not worry and tell myself that it's because I'm taking my temps super early, but it still worries me some. I know I ovulated obviously. Kinda difficult not to on the trigger shot and I'm not having O pains any longer.
I start progesterone tomorrow so if it's a problem, then hopefully the suppositories will fix it.
And we have all of our bases covered and then some with BDing.
_____________________
Totally forgot to take a photo of dinner last night. SIGH
It was the same baked chicken dish I made before though. Fixed skin on, bone in chicken breasts in the oven. 350F this time for around an hour. Took longer for some reason.
Seasoning was some coconut oil, smoked paprika, seasoning salt, pepper. Smoked paprika has a strong flavor to it but it was pretty good.
Side dish was stir fry veggies. Zucchini, carrots, onion, broccoli sauted in coconut oil, drizzled with tamari soy sauce, and sprinkled with some pepper and sesame seeds.
Made DH some for his lunch today. Carrots are on the bottom :P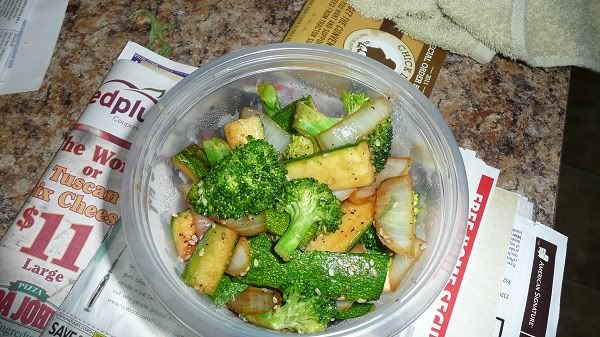 Breakfast, I ate my first portion of pineapple core. BLEH, frozen then thawed out core is kinda gross. You're supposed to eat it in 5 portions over 5 days on an empty stomach. Sounds so ridiculous, like some old legend or wives tale heh.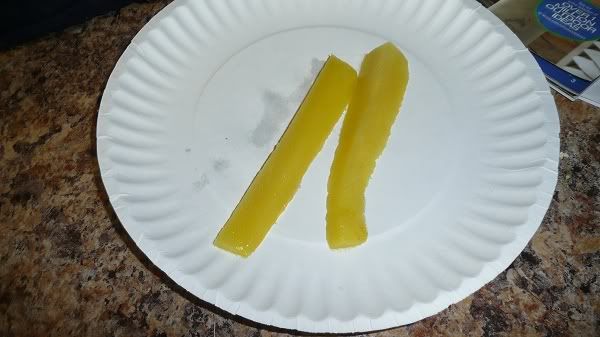 DH wanted paleo pancakes for his breakfast. The applesauce one, not the banana (helps that we don't have any bananas).
I kind of forgot everything that went in to them, but got it basically correct. Made the batter from 1/2cup of unsweetened applesauce. 2tbs almond butter, 1 egg and a few drizzles of vanilla extract.
Heated up some coconut oil on med heat, and cooked. I let them sit a lot longer to try to keep them from falling apart and it seemed to work this time. One of them did fall apart, but the other 3 stayed a pancake shape. YAY!
Also made him some scrambled eggs :)