Still find it so strange how HCG can affect the brain. I'm still having some pretty vivid dreams. Once again I dreamt I was in high school and was running late to class. Blahblahblah happened, and I actually woke up thinking that I was late for school!! I am 31yo, I haven't been in school in forever! lol
Just weird.
Anywho, here are the tests for today :)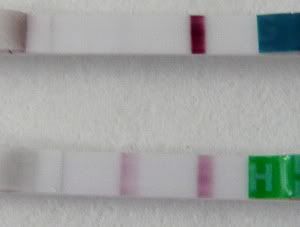 The line on the HPT is faint but still there. Hmmm, I'm around 4dpo today..... sigh... I can already feel the anxiety kicking in. Going to read some books or something. Keep me distracted!