Confusing much? Looks like the opk is lighter but the HPT looks darker.
Sigh, whatever!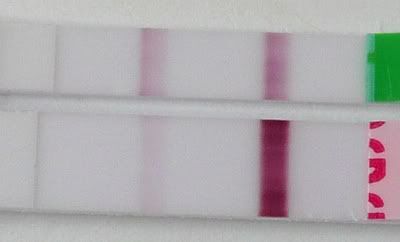 Not MUCH darker or anything, but it's def darkr than yesterday's fmu.
Guess it's not technically fmu.... more like... 3rdmu.
Whatever.
I still just want it to go away already.... sigh.
If it's not viable, why still hold on to it body???
Spotting has FINALLY stopped.
Didn't think it would ever end.
Guess I should be thankful it wasn't still an actual flow though.
Yeah.... just here in limbo. May go ahead and take that answer test. It's been 2 days... it should be even darker if my hcg is rising right? Pfft, we'll see.