Couldn't frickin log on.
Lets just say, a lot has happened.
So yesterday, I got up to fix breakfast. About 10 minutes later, I started getting shooting pains in my vajay. They slowly got a little worse to where the pain would radiate up to my uterus and cause it to cramp.
It concerned me, but honestly didn't think much of it.
Went back to sleep, woke up, and pain is still there.
Uhm ok.
I took my morning test.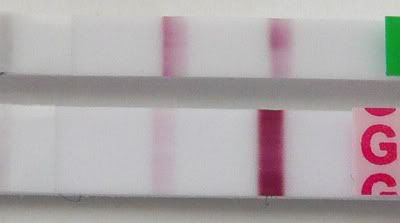 Crap... it's darker!
Sit at the computer to do my usual stuff.
Start feeling gushes down there. Not big ones, just really slight ones. I've been feeling really wet down there the past few days and just thought it was cm as it was before.
Right in the comp room though, I stood up, and pulled down my shorts and saw that there was blood on the panty liner. Cue the freak out!
Seriously, I started shaking and pacing the house. I tried getting in touch with DH, but where he's located in the hospital, he gets absolutely no reception on his phone.
So I call the hospital trying to get in touch with him, and the frickin operators don't pick up until the 5th time I call!
I finally get his extention number and call him and as soon as I hear his voice, I completely break down. I tell him that I'm bleeding and he needs to get home right now to take me to the hospital.
He says he needs to tell someone but he'll be home ASAP.
He calls a little later to tell me he's coming home and to call my RE's office to tell them what's going on.
This is at about noon. So I call, leave a message for the nurse. Get a call back about 30mins later. The nurse tells me to come in to there at 2:30 b/c the RE is currently in surgery.
That's a bit of a relief since I really didn't want to go in to the ER and have some stranger looking at my lady junk.
DH gets home finally, and he comforts me. Just his presence is a comfort and I really calm down. I'm still freaking out but it's not crying constantly freak out.
We finally go and get to the RE's office, and they do an u/s. RE first tells us that b/c my beta levels have been so low, that we're probably not going to see anything, but we'd check just in case.
He was right though. Nothing looked out of the ordinary... except for my right ovary. RE didn't say anything about it... I'll come back to that in a min.
Everything else looked normal though. That was a big relief.
Afterwards, he mentioned that usually with ectopics, the woman usually won't be in any pain until beta levels are a lot higher, so he thinks this is just my body finally continuing the m/c and flushing it out.
He also mentions that he still thinks we'll get and stay pregnant. It's just a matter of luck and not giving up. I wish there was more he could do for us though. I know he doesn't like all of those tests that are done. Like the clotting ones and such. He's been doing this for a while now and I do trust his judgement. I'll ask if there's anything I could take for egg quality or something. I'm already taking royal jelly, but maybe there are other things.
Oh and they also took blood for a beta, but since it was so late, won't get results until today. They may have gone up again, but I think the next one done whenever they want me in again will finally be at 0 or close to it.
Anyway.... last night was ok. Pain was pretty bad. I couldn't strain at all or move my stomach around b/c it caused the aching to get worse.
Today has been a little better. Bleeding is still a light to heavy spotting. It's turned really mucousy like my AFs can get.
Uterus doesn't ache, it's my ovaries right now. The whole area down there is really tender and sore feeling when pressed.
I took a test this morning, and it is A LOT lighter than the one from yesterday morning.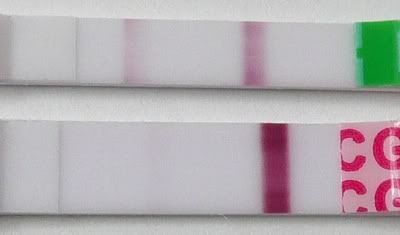 Actually a really huge relief to see that. It means this is going to happen naturally, so hopefully the RE will be fine with us trying again in July.
Oh and about my right ovary. The RE really only glanced at it for a sec, but it was obvious something was happening to it. It was covered in follicles and I mean completely covered and some of them actually looked big... as in mature size. I mentioned it to DH last night and even he noticed it. The RE didn't seem concerned about it but I thought that was weird.
WTH is my ovary doing?
Wouldn't it be some shit if it ovulated on it's own. I guess we'll know if I get AF on my own.
So yeah... that's where I'm at right now. In a little bit of pain still, but feeling ok. Sucks that this is happening of course though, and I haven't finished mourning this loss yet.
I already told DH that I am def not going out tonight. I don't give a damn if he tells everyone what is happening... I'm just not going out. I don't have the emotional energy right now to hear about her pregnancy and I need to rest physically.