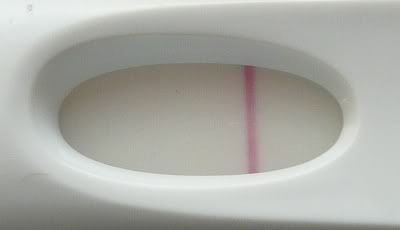 Damn Answer test!!!! The line is barely there. It showed up ok in the photo but IRL, it is SO faint. I wasn't planning on using another test today but I need to now.
Guess I'll use my last FRER this afternoon.
My temp went back up so that's somewhat comforting. Going to try to calm down and not freak out until this afternoon.
Speaking of this morning. I woke up to take my temp, and to use the bathroom. BOY did I have to go (metformin bathroom trip). I got out of bed and felt nauseated.
After I was done, I laid back down and felt completely nauseous. I had to get up 3 more times b/c whatever I ate was not agreeing with me at all. After I emptied out my stomach I only had a very dull lingering nausea left.
Now I have no idea if that's actually morning sickness or just bad food. I guess if it happens again, then I'll know.