Give momma a good E2 tomorrow! Never thought I'd want to actually get dildocam'd!
It would mean that something was growing though and moving along.
Anywho.... dinner tonight was some sauted stir fry veggies and grilled spicy butterfly boneless pork chop.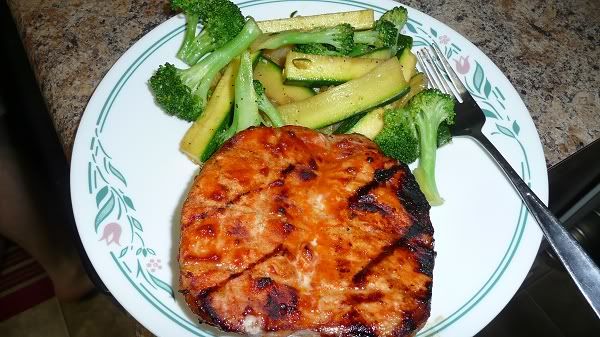 Veggies were zucchini, broccoli, onions sauted in some coconut oil, then cooked with some of the tamari soy sauce and spinkled with sesame seeds.
Pork was marinated for only about 2hrs in some of that Thai hot chili sauce, crushed garlic, and tamari soy sauce. DH grilled it on our cheap charcoal grill. yum yum :D
The pork is AWESOME on a bun w/ some mayo. If you're still eating those things then I highly recommend it if you enjoy garlicy spicy food :D