Here is tonight's dinner. Wanted to clear our the zucchini we got last week (and that I forgot about), so I sliced it up along with some baby carrots and sauted them in some coconut oil. Then added black pepper and some gluten free soy sauce & garlic powder. I added just a tad too much soy sauce so some of the pieces that soaked up more of it was a little salty, but it was still really good. Going to do this again.
And the meat was a bone-in chicken breast. I baked it in the oven at 350 for about 45mins until the temp was 165 in the thickest part. I usually overcook bone-in chicken but not this time! It was juicy and delicious for once! lol
I first melted about a tablespoon of coconut oil and poured that over both chickens, trying to get some in between the skin and meat. Then, sprinkled the chicken with pepper, paprika & seasoning salt.
I'm not one to make it pretty so yeah... lol.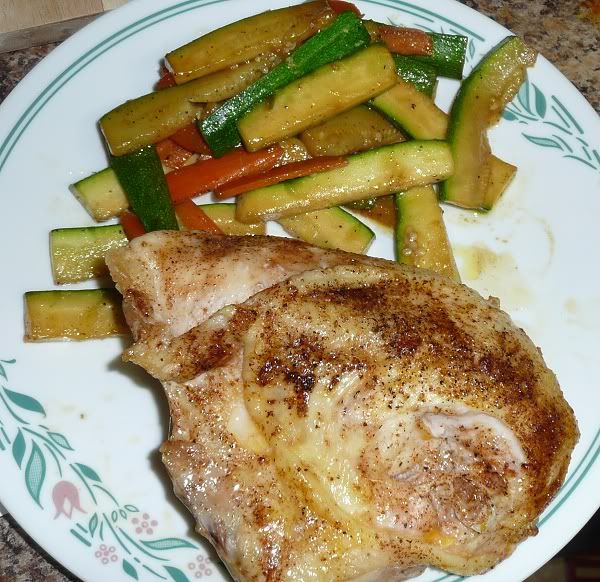 Dessert we were going to finish off the other pineapple, but it's been warm and that didn't agree with it so I chucked it out in to the yard lol.
So we both had a banana each along with a few blueberries. Oh how I miss eating bananas! They are SO carby though so gotta be careful eating them if I want to lose weight. I'm still well within my carb limits so no worries :)