Been getting some twinges and aches in both ovaries. Had some today in the left, OR it could be bowel. So hard to tell.
Dinner tonight was Paleo Spaghetti, yum yum.
First time eating a spaghetti squash. Cut it open and was afraid it was going to taste like pumpkin again, but thankfully it doesn't.
Spaghetti squash was cut in half, seeds taken out and then baked cut side down on a cookie sheet at 350F for 50mins. Could've used a little longer but we were hungry :P
Took the tongs and it shreds pretty much by itself.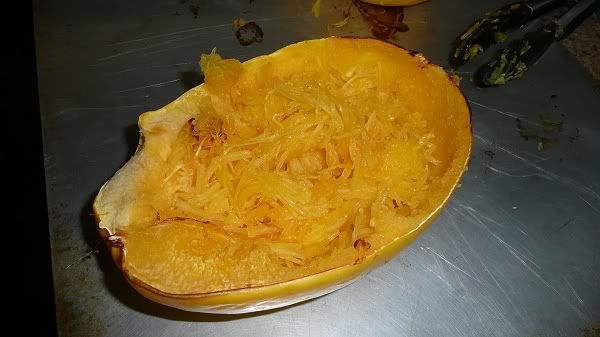 The sauce was hot italian sausage links made fresh by the meat department in the store. Also added 1 onion, 1 zucchini, 4 crushed garlic, 3tbs of tomato paste, 2 cans of diced tomato, white vinegar, salt, black pepper, and oregano. Let this simmer until the squash was done. VERY tasty. Was afraid it was going to be bland, but I think the sausage really helped with the flavor.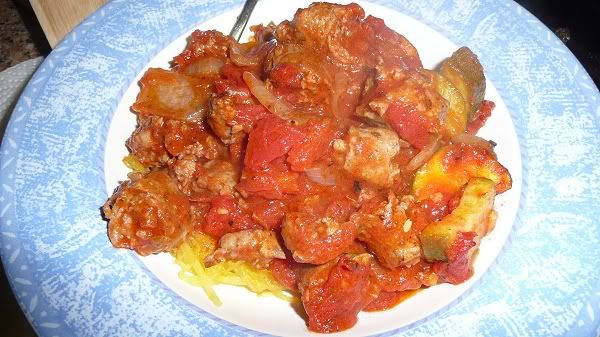 Was so glad this turned out well b/c spaghetti used to be a regular food item for us and now it can be again :D
And we're going to be cheating tomorrow. lol I'm actually kind of hesitating to do it. It's not like I'm going to go back to my old ways or anything. I just don't want to do any damage.
We've already decided to cheat for dinner on Saturday. That's when we're headed to Longhorn for whatever, and that awesome chocolate cake dessert they have.
Hoping that our cheats will just be limited to Friday dinners and MAYBE Saturday dinners whenever I don't feel like cooking going to really try not to make this a too often occurance.