Here's tonight's dinner! lol
It follows this recipe
http://allrecipes.com/Recipe/Catherines-Spicy-Chicken-Soup/Detail.aspx
except that I made it a bit more paleo friendly. No bouillon cubes, no corn, no chili beans and no sour cream. Oh and I added quite a bit more seasoning (except for the chili powder) and salt (sea salt) to make up for not using bouillon. Apparently there are gluten free bouillon. Going to have to look that up.
Made mine w/ 2 bone in chicken breasts. Also used up the rest of the Swanson chicken stock I had left. It has added sugar, but only just a little bit so figured it would be ok to use up so it wouldn't go to waste.
Erm... Oh I don't like the taste of whole canned tomatoes, so I used 2 Hunts Fire Roasted diced tomatoes and 1 Hunts no salt added Basil somethingsomething diced tomatoes. Also used tomato sauce instead of a can of tomato soup. I also added 2 cans of green beans. Was going to put in zucchini but Kroger sucks so yeah, that didn't happen.
I topped mine w/ a few pickled jalapeno slices. Not as many as I normally would and I told DH he could have some cheese on his. He doesn't have a dairy problem so he should be ok.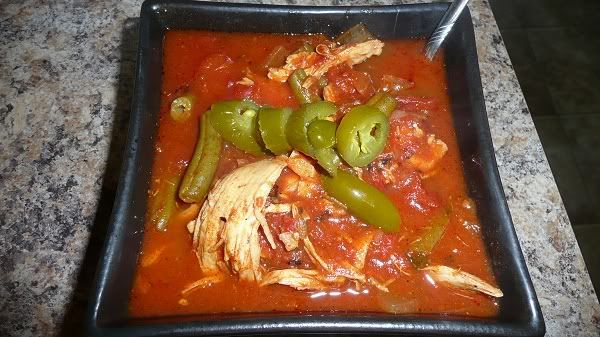 Ate 2 helpings cause it was so YUM! It's like a very hearty soup, even without the beans and corn. Just really great chili flavor, the yummy chicken, and the awesome chunky tomatoes and green beans. It tasted exactly as it had before when I made it as the recipe called for. So woot! I know what I'll be having for lunch tomorrow. Yum yum!